Description
Garrett Gti 2500 with Pro Package Plus Eagle Eye Coil.
POWERFUL IMAGING DETECTOR WITH GARRETT FAMOUS DSP TECHNOLOGY
Find larger targets at twice the depth of conventional coils. The GTI 2500 Metal Detector has many other features that allow you to search for hidden treasures with ease deeper than ever before.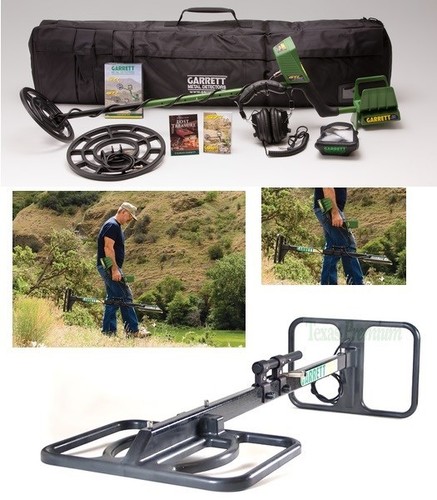 "The GTI 2500 is truly a professional-quality detector that offers above average performance while not requiring complicated adjustments that would "scare off" less-seasoned detectorists. Even a novice with a few hours of practice can search hunted-out sites with confidence and recover targets that others have missed. The increased detection depth in even the most adverse ground conditions make it worthy of a close look before you purchase any new detector. "
— Andy Sabisch, Lost Treasure
"Versatile is the one word I would choose to describe the Garrett GTI 2500, mostly due to the multiple abilities it possesses. As the features and performance of this metal detector are discovered, one begins to appreciate the range of talents included in its repertoire.
"A new detectorist can pick up the GTI 2500 and with the push of one button, begin to hunt for treasure using this top-of-the-line machine…Yet the abundance of useful features available should make even the most seasoned hunter smile…The programming design is nothing short of amazing, in that I can scroll through every feature and setting within seconds."
— Ben Myers, Western and Eastern Treasures
Features:
Frequency : 7.2 kHz
Warranty : 2 Year Limited
Total Weight : 4.6 lbs (2.1 kgs)
Graphic Target Analyzer : Identifies Target's Conductivity
Graphic Target Imaging : Shows True Target Size and Depth
True Digital Signal Processor : Improves Discrimination Accuracy
Surface Elimination : Adjustable Search Aid Ignores Shallow Items
ScanTrack : Optimizes Treasure Signals Based on Search Coil Swing Speed
Salt Elimination Aid : Eliminate Interference Caused by Wet Salty Sand at Beach
Automatic Ground Tracking : Detector Automatically Adjusts itself to Ground Mineralization for Optimum Performance
Factory Included Accessories:
GTI Environmental Rain and Dust Cover-Up
Soft Case, Universal Camo Bag
How to Find Lost Treasure Field Guide
9.5″ PROformance Imaging Search Coil
12.5″ PROformance Imaging Search Coil
GTI 2500 + Eagle Eye Package
Brand: Garrett
Product Code: GTI 2500 + Eagle Eye Package
Availability: In Stock